Internship Program
Kickstart your career in aerospace through an internship with AIA. If accepted to the program, you'll work alongside experienced personnel who coordinate with some of the most influential leaders in the industry.
About the AIA Intern Program
The Aerospace Industries Association (AIA) has been that voice since 1919. Our work as an advocate and convener is essential to shaping policy, shedding light on the industry's impact, and empowering its future. One way we invest in the future of our industry is through our Internship Program, which gives young people an opportunity to explore their career options and gain valuable skills that prepare them to enter the workforce.
AIA's 2023 Summer Intern Program requires a commitment of a minimum of 10 weeks, and a maximum of 12 weeks. Interns should expect to work 33 hours per week and will receive a weekly stipend of $500.
How to Apply
When you're ready to apply, please submit your resume and cover letter via email, with "ATTN: AIA Summer Intern Program" in the subject line. If your application meets the eligibility requirements, a representative from AIA will contact you.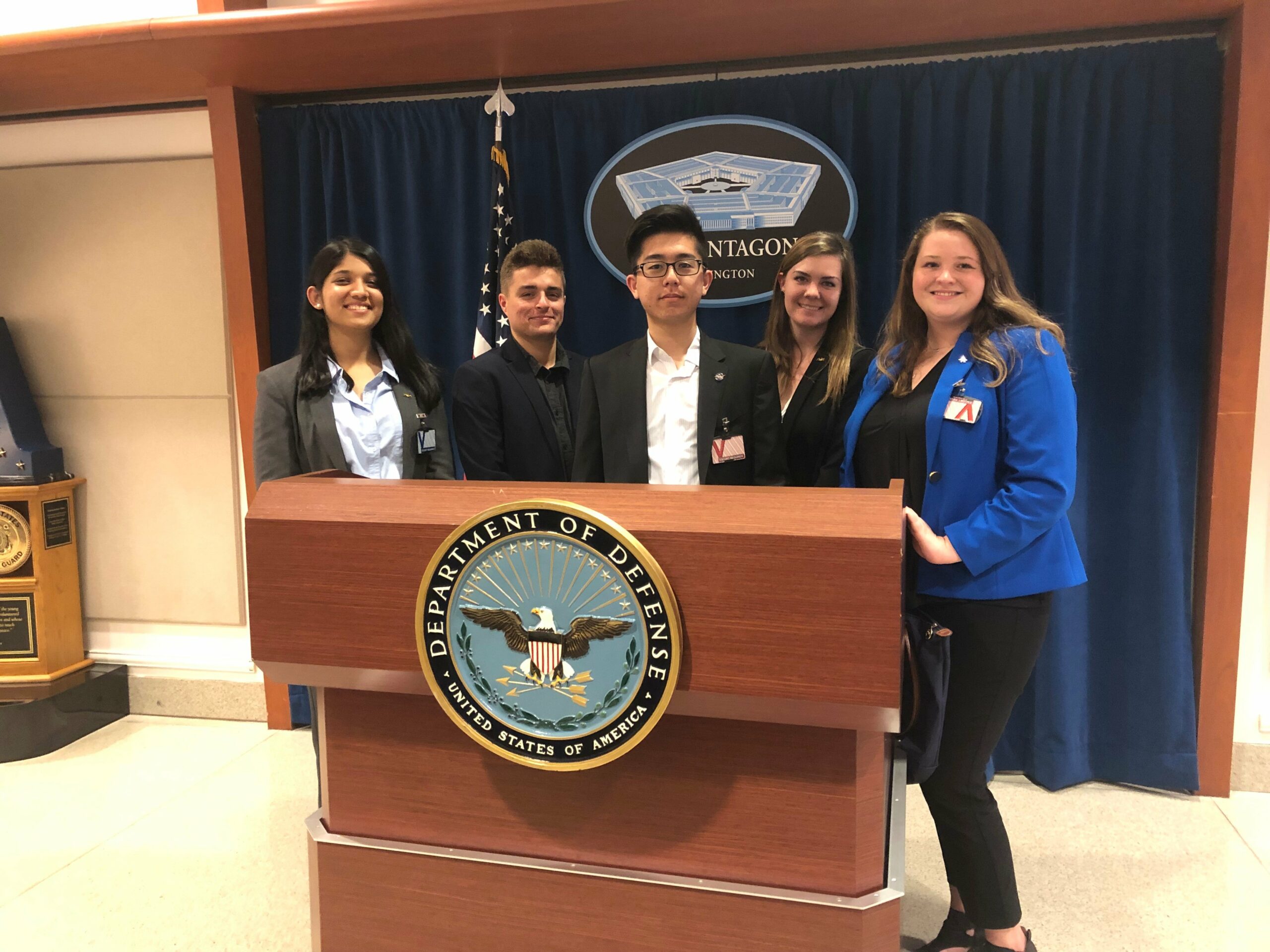 Deadlines and Timing
Internships are posted by: January 17
Application deadline: February 28
Decisions are generally made by: March 30
Eligibility
Must be at least a college junior in good standing, an advanced student or a recent graduate
Should have at least a 3.3 GPA (on a 4.0 scale) or equivalent from a non-U.S. institution
Must be eligible to work in the United States
Desirable fields of education: Public Policy, Political Science, Journalism, Business Management, Aerospace, Engineering, Design
Types of Internships
The Aerospace Industries Association (AIA) is seeking a dynamic individual to join the communications team for a summer internship. AIA represents an industry that moves, connects, and inspires people and drives the American economy. We are looking for a storyteller who can help us share our story through media outreach, events, and digital content. We are looking for a communications or journalism major to help in all aspects of our busy office. Duties include writing content for our website; drafting press releases; developing content for our social channel; including graphic design and/or video; helping organize meetings and other event planning; conducting research; brainstorming content for future external planning; conducting research; brainstorming content for collaborating with our Membership team for member communications; and special projects.
The Aerospace Industries Association is seeking a forward-thinking, energetic individual with a passion for events to join the Corporate Events team and support AIA's portfolio of events, including multi-day conferences and receptions at international air shows.  Attended by leading executives in the aerospace industry, AIA events offer insights from the nation's top thought leaders, discussions on the latest trends and innovations, and unparalleled networking opportunities.
The Corporate Events team is looking for someone who can bring fresh perspectives to the event planning and management process; in turn, this candidate will have the opportunity to work on exciting, high-impact events in a creative and collaborative environment.  This internship is a unique opportunity to learn the ins and outs of event planning, including developing marketing materials, identifying latest trends, assisting with logistics, budgeting, and registration, and performing various research duties.
Qualifications:
Applicants should be comfortable engaging externally on behalf of the association, enjoy planning and thinking creatively, and have event management experience.
The Aerospace Industries Association (AIA) is seeking a Civil Aviation Policy Intern to assist our team on several exciting policy projects this summer.
Duties would include monitoring and analyzing relevant and potentially impactful regulatory and legislative issues for our members and specific Committees, Subcommittees and Working Groups. This position would also work with our communications staff to assist on messaging these issues to external parties and help craft effective ways to communicate with our internal members. Other duties may include ensuring accuracy of information on AIA's database and coordinating relevant stakeholder meetings.
Work of the Civil Aviation Division includes commercial aviation safety and aircraft/propulsion systems design, manufacturing, maintenance, and repair; environmental issues: including sustainability, sustainable aviation fuels, noise, emissions and chemical policy; unmanned aircraft systems, advanced air mobility and air traffic management, and spectrum. The intern is tasked with supporting the Civil Aviation staff as necessary and should expect to gain valuable knowledge about the commercial industry and policy making.
Qualifications:
Applicants should be highly motivated, have excellent organizational and communication (oral and written) abilities, with a desire to work within the aerospace industry.
Applicants should also have a basic understanding of the legislative and regulatory processes.
The International Affairs internship at AIA is designed to give students exposure to a broad range of trade policy matters touching the global aerospace and defense industry. Students will be given an opportunity to interact with member companies and the U.S. Government, with an emphasis on the Departments of Defense, State and Commerce, allowing them to build contacts and grow their understanding of commercial, defense, and export control policies and regulations impacting aerospace and defense products which may lead to future career opportunities in the sector. This position will work directly with the International Affairs Division.
During the internship, students will be asked to take on a variety of projects important to AIA and the division, while availing themselves of the broader national security and foreign policy dialogue that occurs in Washington, D.C. centered on aerospace and defense. Tasks at AIA may include, but not limited to, assisting division staff with day-to-day operations, assisting in organizing U.S. Government-industry dialogues, developing policy positions for consideration by AIA member companies, consolidating input on Federal regulations, including commercial trade, foreign military sales, and export controls of aerospace and defense equipment.
Qualifications:
The ideal candidate will come with superior writing and organizational skills and have a basic background in either international affairs or international business. Applicants should have a general understanding of international trade, economic policy, and/or foreign affairs. Research experience is valued.
Interested in politics, policy, aviation, space, and national security? The Aerospace Industries Association's Legislative Affairs team has an exciting opportunity to develop and execute AIA's legislative strategy for 2022 and beyond.  Duties of the Legislative and Public Policy interns include the monitoring and analysis of pending legislation and public policy initiatives, working with congressional staff on engagements, and helping synthesize the various legislative initiatives of our member companies.
The Legislative Affairs intern will attend legislative proceedings of the U.S. Senate, the U.S. House of Representatives, and other governmental organizations.  Specific responsibilities include the preparation of testimony before congressional committees, in addition to conducting research of legislative and public policy issues for the National Security, Civil Aviation and Space divisions.  Interns should expect to gain valuable knowledge about the legislative process and be provided excellent networking opportunities.
Qualifications:
Applicants should be strongly motivated, possess a basic knowledge of the legislative process and the aerospace and defense industries, and have solid research and writing experience.
Membership/Business Development
Interested in gaining real-world experience related to the exciting world of international airshows, lead generation and pipeline management? The Aerospace Industries Association has an open position for an intern to work closely with the Membership team on reactivating membership conversations with previous members, researching targeted companies to determine eligibility for membership, and tracking lead progress through the acquisition pipeline. This intern will also partner with the airshow team to assist in developing strategies for capturing target audience and current customer engagement at international airshows, consolidate show data and prepare files for internal and external briefings, manage badging for AIA team attendance among other groups, and work on multiple projects simultaneously in a fast-paced environment, and manage timeline to meet tight deadlines.
This work requires outreach to prospective members, following up, and reporting results. Data entry will also be required. The AIA assumes professional responsibility for the data entry work being done.
Qualifications:
We are looking for a candidate who has a desire for real-world experience in a fast-paced environment. The candidate should be personable, have strong attention to details, excellent communication skills, and be familiar with database entry. The candidate should have experience with the Microsoft suite of office products.
Interested in national security and defense acquisition policy? Looking for an opportunity to work near Capitol Hill? The Aerospace Industries Association's National Security Policy division is offering an opportunity to gain experience and learn from leading government and industry experts about national security strategy and budgets, acquisition policy, cybersecurity, industrial base policy, and more.  Your tasks at AIA will include preparing and reviewing documents, organizing logistics for U.S. Government-industry dialogues, assisting in the development of policy positions for consideration by AIA member companies, and assisting in the planning and execution of AIA events. This position reports to the Manager, Acquisition Policy. Interns should expect to gain valuable knowledge about defense and acquisition policy and will be provided excellent networking opportunities.
Qualifications:
Applicants should be strongly motivated self-starters with demonstrated interest in defense and/or acquisition policy.
Equal Opportunity
AIA is proud to be committed to equal employment opportunity regardless of race, color, ancestry, religion, sex, national origin, sexual orientation, age, citizenship, marital status, disability, gender identity/expression or Veteran status. Consistent with these policies, we strongly believe that diversity contributes to a broader collective perspective that will consistently lead to a better organization and better results. We are working hard to increase the diversity of our team wherever we can, and we actively encourage everyone to consider becoming a part of it.