Arlington, Va. (Nov. 22, 22) – The Aerospace Industries Association (AIA) honored CEO and co-founder of Special Aerospace Services (SAS) Heather Bulk with the Voice of Industry Award at its fall 2022 Board of Governors meeting in Santa Barbara, Calif. The Voice of Industry Award recognizes AIA's most effective member advocates who have utilized their platforms and made their voices heard in support of the workforce, industrial base, and shared aerospace and defense supply chain.
"Heather's impact will be felt for generations, particularly because of her work to create a more inclusive engineering and space industry and her efforts to develop and empower the future workforce with STEM education," said Eric Fanning, President and CEO of AIA. "Always thoughtful, passionate, and ready to raise a hand in support of AIA, the industry, and men and women who comprise our world-class workforce, Heather is one of the best and brightest leaders in our industry."
"It's truly an honor to receive this award from the AIA. For over 15 years, it's been my privilege to be part of this incredible industry, and to work with such dedicated, skilled, and passionate professionals," said Heather Bulk. "AIA has been and continues to be a driving force in the successful evolution of the aerospace industry, and I look forward to continuing our efforts to build and maintain a dynamic, diverse and skilled workforce."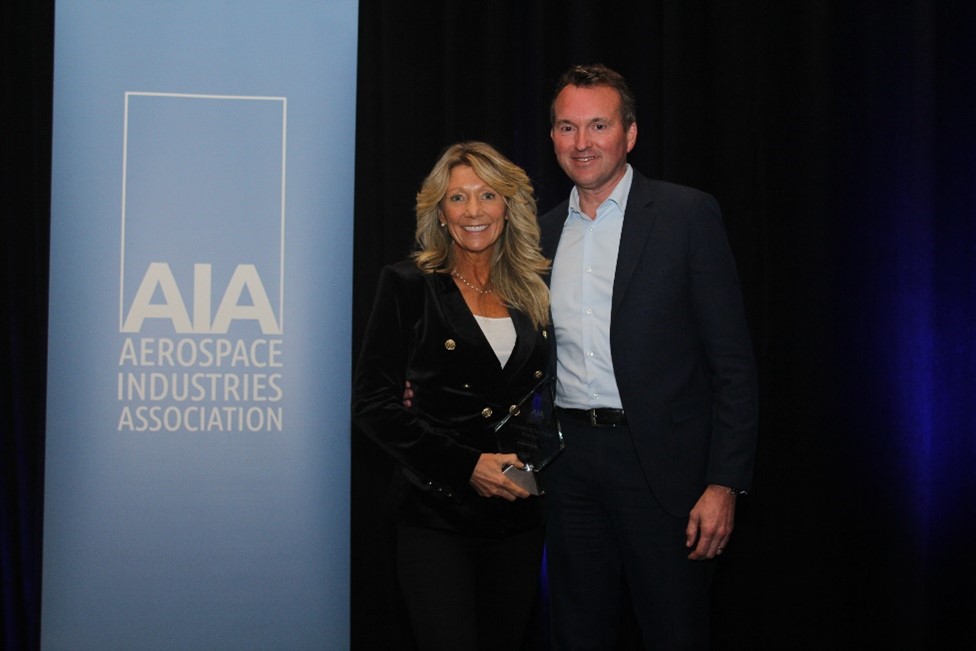 Heather Bulk's biography is available here or below.
Heather Bulk is the President and Chief Executive Officer, as well as co-founder of Special Aerospace Services, SAS Flight Factory, and Rocket Apparel. She is also co-founder of the Who Dreams Wins Foundation. Since 2007 Ms. Bulk has overseen the strategic direction and business performance of these companies and non-profit. Her focus is on strategy, leadership, and impact for all entities.
SAS, a woman-owned, small business and its wholly owned subsidiary, SAS Flight Factory, have over 118 team members across the United States. The Companies provide innovative aerospace solutions to the aerospace industry, NASA, the U.S. Department of Defense, and commercial spaceflight sector.
In 2018, Ms. Bulk and her daughter launched Rocket Apparel, an aerospace focused clothing and accoutrement company. Rocket Apparel lends women's fashion sense to the wardrobes of aerospace professionals and enthusiasts.
Prior to her leadership at SAS, Heather spent over 17 years as a senior executive in financial and estate planning to some of the country's most affluent families and business owners. She completed her Executive Juris Doctorate in 2007 and holds a Masters in Taxation (LLM) from the University Of Denver Law School and a Bachelor of Science degree (Finance) from CSU, Chico. She maintains her Certified Financial Planner Designation.
Ms. Bulk is committed to developing and maintaining an inclusive and diverse space industry workforce. As a leader in the business community, Ms. Bulk engages on boards and think tanks to develop paths to bring new talent to the aerospace industry. She is a member of YPO, representing a global community of executives committed to the shared mission of becoming "Better Leaders through Lifelong Learning and Idea Exchange."
Ms. Bulk and her family have created the Who Dreams Wins Foundation, which fosters STEM education and provides scholarships and technology to those in need.
Ms. Bulk has been a pilot for over 19 years. She SAS' Corporate Pilot, flying their Pilatus aircraft. She flies missions for philanthropic work, such as Veteran's Airlift. She is also a member of Pilatus Owners and Pilots Association, and a member of AOPA.