Arlington, Va. (Nov. 6, 2023) – The Aerospace Industries Association (AIA) last week presented Chair of AIA's Board of Governors Tom Gentile with the "Wright Stuff Award" to honor his contributions to the American aerospace and defense industry.
"Tom Gentile has long been a vocal advocate in our industry, promoting the strategy, policy, and investments needed to maintain American leadership in aerospace and defense," said AIA President and CEO Eric Fanning. "During his time as Chair here at AIA, Tom has been an incredible asset to our mission and has proven to possess the 'The Wright Stuff' that is the hallmark of innovation in American industry and what makes us the best in the world."
"AIA has been the voice of our industry for over 100 years, and it has been an honor to lead this organization at such an exciting time," said Tom Gentile, Chair of AIA's Board of Governors. "As we continue to work together to position our industry for ongoing success, I thank AIA for their partnership."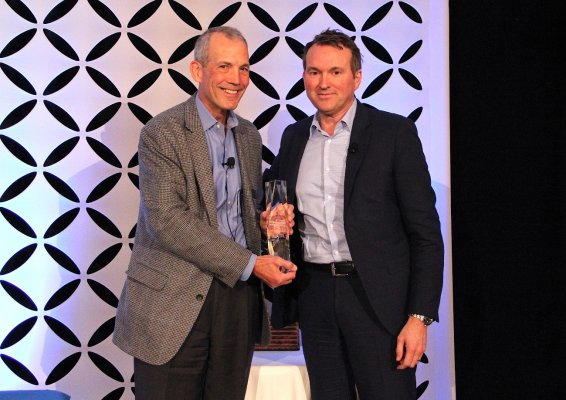 As Chair of AIA, Tom Gentile championed U.S. aerospace and defense industry's contributions to the American economy and national security and worked to ensure the industry's ongoing economic competitiveness. Gentile has advocated for implementing policies that will pave the way for new technologies and greater sustainability, incentivizing critical research and development (R&D), and passing essential legislation, such as the Federal Aviation Administration (FAA) reauthorization. Among his achievements as Chair, in May, Gentile penned an op-ed in Aviation Week outlining how the U.S. government can support continued American leadership in innovation.
Created in 2020, "The Wright Stuff Award" is named after the inspiring Wright brothers whose ideas and inventions ushered in the age of flight, and in turn, transformed the world. The award recognizes an individual for paving "the way to what's next" by making major and measurable contributions to the aerospace and defense industry. Previous recipients include Sen. Jerry Moran (R-Kansas), former Sens. Jim Inhofe (R-Okla.), Patrick Leahy (D-Ver.), and Richard Shelby (R-Ala.), and former Rep. Mac Thornberry (R-Texas).
###