Arlington, Va. (Feb. 4, 2022) – In case you missed it, Aerospace Industries Association (AIA) President and CEO Eric Fanning testified before the U.S. House of Representatives Committee on Transportation and Infrastructure's Subcommittee on Aviation. In the hearing, "Finding the Right Frequency: 5G Deployment & Aviation Safety," Fanning told lawmakers about the critical role radio altimeters play in an aircraft safety system, described the United States' high aviation safety standards, stressed that the problem is not yet solved, and highlighted the actions needed to prevent the next spectrum and safety challenge.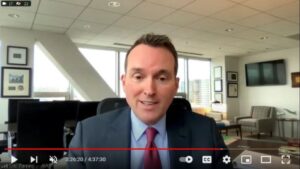 Here are 4 key takeaways from his testimony:
#1: The radar altimeter is the workhorse of an aircraft's overall integrated safety system.
"While it is a simple device, it has the most consequential of purposes: helping to save lives. Altimeters help pilots determine an aircraft's altitude. These highly reliable devices are essential to a number of aircraft functions, including precision approach, landing, ground proximity, and collision avoidance. All commercial and most general aviation aircraft, as well as helicopters, use an altimeter."
"Altimeters are especially important for pilots dealing with low-visibility conditions and in other situations like windshear, which causes rapid decrease in airspeed due to wind flows near the ground. It can be particularly hazardous during takeoff and landing. In such an environment, fluctuation in atmospheric pressures can result in air speed indicators and barometric altimeters providing misleading information to the flight crew. But the radio altimeter can be trusted. And it's this device they must rely on to execute a successful escape maneuver."
#2: The United States has the gold standard of aviation safety.
"In partnership with the FAA and other government partners, U.S. aviation manufacturers and our airline customers set the "gold standard" of safety worldwide. Maintaining this unprecedented level of safety is our mission. For this reason, we've been expressing serious concerns about possible interference with a key aviation safety device known as a radio altimeter upon deployment of new 5G service in the C-Band."
#3: The problem is not solved. There will be disruption in the future.
"The ultimate goal is to maximize 5G while minimizing disruptions. There will be a gap between the end of the 6-month compromise and when the ultimate solution is identified and implemented. That means a process must be established to provide ongoing information sharing and dialogue between government and all private sector stakeholders. And a process that also helps avoid us finding ourselves in this position again as we contemplate future additions to spectrum."
#4: Preventing the next spectrum and safety challenge.
"We need to think of this more broadly as we move forward and use spectrum's limited bandwidth for more complex technology and stronger signals, we need to have all the stakeholders that are in spectrum empowered to be a part of the conversation. Some formalized new process that brings all of us together rather than just thinking of spectrum in stovepipe bands, to think about it in its entirety. Because clearly that's part of that the issue was here. This was an FCC-controlled process and the FAA raised concerns but wasn't empowered to do anything about it other than raise it. They have great engineers, they cooperate with industry which has world-class engineers, so I think we have to look across all the stakeholders in spectrum, certainly the FAA when it comes to aviation safety, and make sure they are a part of the process in anything that we do as we expand what we use spectrum for moving forward."
Fanning's written statement is available here, and the full hearing is available here.
###