Arlington, Va. (Feb. 10, 2023) – In case you missed it, this week the Aerospace Industries Association (AIA) President and CEO Eric Fanning testified before the House Armed Services Committee in a hearing on the state of the defense industrial base. Here are six key takeaways from the hearing.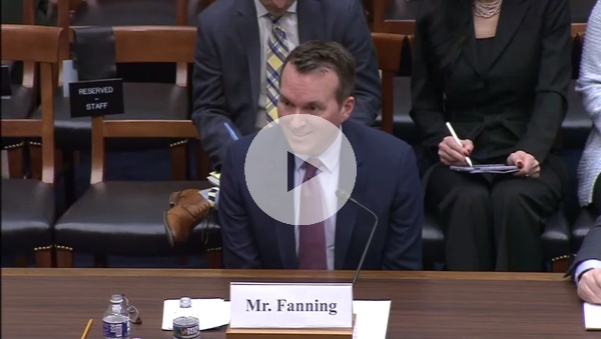 #1. The condition of today's DIB isn't because of the war in Ukraine, but years of spending decisions
"The condition of the industry today is not the result of Russia's invasion of Ukraine, but of successive decisions made over many years. Federal policy and investment in our national# defense can be summed up in two words: unpredictable and inconsistent. Over the last 25 years, Congress has passed more than 120 continuing resolutions, instead of on-time appropriations bills."

#2. Government investment is key to securing critical mineral supply chain from China
"It took us years to get to where we are built on different policies with China. As we pivot and try to extricate ourselves, particularly on the national security side, it's going to take time, shared effort, and a sense of urgency.
"When you look at it from the lens of national security, it's important for government and industry to work together and figure out what each needs to do. In this particular case, investment on the part of government to get that market and capability started so that the industry side then has a source it can turn to would be critically important because we've lost that capability."

#3. Strong public-private partnerships amplify industry's creative approach to workforce challenges
"There is a lot that private industry does to try and make up the [skills] gap. We have a large aerospace company in Kansas that recruits off of farms because at least they're thinking they're finding people who know how to operate heavy machinery. They are in schools. They are doing their own apprenticeship programs. They are leaning far into this because of the problems the workforce has. When they find a willing partner at the state and local level, it just makes it that much more interesting. And you can see pockets around the country — Alabama, Colorado —where all the different stakeholders came together and had successes growing organic capability."

#4. Inconsistency, inflation drive small businesses out of DIB
"That speaks to the inconsistency we have been talking about, particularly for small businesses in the defense industrial base, and now you have inflation on top of that. As we've discussed, the supply chain is not walled off from the industrial base, it's shared. And in inflationary times, there's all sorts of incentives to move to the commercial side. We have companies that are not getting deliveries from their suppliers, who are willing to pay the penalty on the defense side, because due to inflation they can get more even with the penalty by delivering either all or some of what they're due to defense companies to a commercial client."

#5. Challenges breaking into the DIB hurts potential new entrants more than consolidation
"I don't think consolidation is what's to blame for the shrinking number of companies doing business with the Department of Defense. If you look at non-defense companies doing business with the Department of Defense, that's shrunk even more. Consolidation – at the prime level – was by design in the '90s when the Pentagon realized we aren't going to be buying as much. Part of competition is having competitions, and the Department of Defense determined we have too many companies for what we're going to be buying in the future and started the process of consolidation.
"Consolidation can be a very important tool for growth for large companies. It can be an important tool for small companies to access capital, to access workforce, processes, expertise, and so forth to continue to develop what it is that they're growing. It's an important part of every industry's evolution. I think the real thing to look at in the DIB is why is it so hard for new entrants to break in. The Department has always been difficult to work with for obvious and important reasons, but I think over time it's becoming increasingly difficult. As more technology is developed outside the Department, versus in the 1960s, it's ever more important we find the way to let those new entrants in and grow the DIB with new entrants. That's a part of what goes hat and hand with consolidation."

#6. FMS process must reflect sense of urgency
"We are poised for peace — our sense of urgency, our processes, how we invest. We have to move dramatically away from that to a sense of urgency. The [foreign military sales] system is certainly part of that, and it's only going to get worse. When we transition from giving things to Ukraine to selling things to Ukraine, it's going to grind down to a very slow process when it goes through the foreign military sales system.
"There are a number of things we have to do. We have to streamline the process and change the presumption that's built into the process from the start to the finish. It's really going to take dedicated senior leader attention to make sure this moves through the process."
###