Arlington, Va. (Dec. 12, 2022) – The Aerospace Industries Association (AIA) honored U.S. Senators Jim Inhofe (R-Okla.), Richard Shelby (R-Ala.), and Patrick Leahy (D-Vt.) with the "Wright Stuff Award" in recognition of their support of the aerospace and defense (A&D) industry.
"On behalf of the 2.1 million employees working in the aerospace and defense industry, it's an honor to present our 'Wright Stuff Award' to Senators Jim Inhofe, Richard Shelby, and Patrick Leahy for their decades of bipartisan leadership and service," AIA President & CEO Eric Fanning said. "Sens. Inhofe, Shelby, and Leahy will leave a legacy of unwavering support and dedication to investment in our military, our national security, and the U.S. defense industrial base that supports both."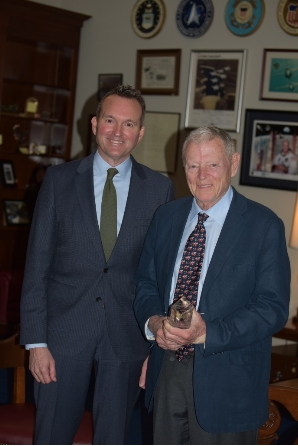 "It's an honor to receive such a meaningful and generous gift of appreciation from the AIA," said Sen. Inhofe. "I am blessed to have been able to work on so many aerospace issues and priorities throughout my years in office and even though I'll be bailing out of this place soon, I have no plans to stop my work in aviation and defense. I trust that the AIA and others in Congress will carry on my legacy, and continue fostering development and beneficial change for the aviation and aerospace community."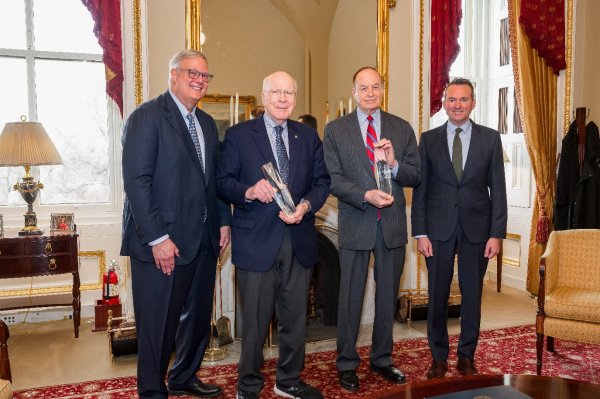 "Thank you to the Aerospace Industries Association for presenting me with the Wright Stuff Award.  This is a high honor.  I am proud of what Senator Inhofe, Senator Leahy, and I have been able to accomplish in this space.  The safety and security of our nation is paramount, which is why I have supported the aerospace and defense industry throughout my career.  There is no wiser investment than that of our military," Sen. Shelby said.
"From the Wright Brothers' first flight in 1903 to the unmanned electric aircraft of 2022, aerospace has connected us with places and people both near and far," Sen. Leahy said. "I have always been proud to support Vermonters in the aerospace industry throughout its outstanding growth over my time in office, and I am proud to have worked with stakeholders across the industry. Senator Shelby and Senator Inhofe have been good partners, and always understood that when we work together our whole was greater than the sum of our individual parts. I am proud to be recognized as a champion of the aerospace industry because the economic impact of the industry has long helped support communities throughout Vermont, from Burlington to Rutland to Brattleboro.  It is a great honor to accept this award from the Aerospace Industries Association."
First elected to the Senate in 1994, Sen. Inhofe has championed two issues he views as Congress's most important duties, defense and infrastructure. From 2018 to 2021, he chaired the Senate Armed Services Committee, and currently he serves as the committee's Ranking Member, a role he also held from 2013-2015; in this capacity, he has played an integral role in passing the annual defense authorization bill to provide our military with the resources, training, and equipment needed to defend the country. A pilot with over 11,000 flight hours, Sen. Inhofe is a strong supporter of the aviation industry — in particular, the development of future aviation professionals.
A longtime advocate for the U.S. military and the manufacturing base that supports it, Sen. Shelby's role on the Senate Committee on Appropriations as both Chair and Vice Chair will continue to have a lasting impact on the military, NASA, and our civil aviation system. Sen. Shelby has served the state of Alabama in both chambers of Congress as well as in the state legislature. He was first elected to the U.S. Senate in 1986 and is currently in his sixth term.
As leader of the Senate Committee on Appropriations and President Pro Tempore of the Senate, Sen. Leahy has been a supporter of the critical research and development (R&D) that underpins today's renaissance in the A&D sector. Sen. Leahy came to the Senate in 1974 when he was only 34 years old and has been a member of the Appropriations Committee for 40 years. 
For nearly three decades, Sens. Shelby and Leahy both led congressional delegation trips to the Farnborough and Paris Air Shows, critical convening opportunities for industry, government partners, and thought leaders.
"The Wright Stuff Award," created in 2020, is named after the inspiring Wright brothers whose ideas and inventions ushered in the age of flight, and in turn, transformed the world. The award recognizes individuals who have made major and measurable contributions to the U.S. aerospace and defense industry.
###