Arlington, Va. (May 17, 2023) – The Aerospace Industries Association (AIA) today presented U.S. Senator Jerry Moran (R-Kan.) with the "Wright Stuff Award" to honor his ongoing leadership and contributions to America's aerospace industry and national security.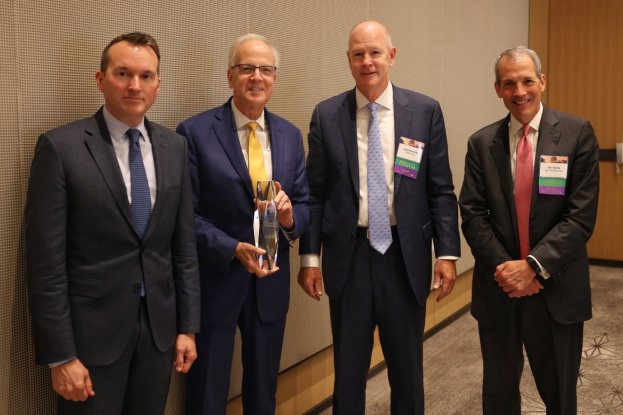 "Senator Moran is a fierce advocate for America's aerospace and defense industry," said AIA President and CEO Eric Fanning. "He champions the issues that matter most to AIA and our more than 320 member companies: job creation and innovation in aviation and aerospace, investment in a highly skilled workforce, and a strong national defense. We are proud to have him as a partner in the U.S. Senate and to honor him with the Wright Stuff award."
"The aerospace and defense industry in Kansas and across the U.S. has no greater champion than Sen. Moran," said Tom Gentile, Chairman of AIA's Board of Governors and President and Chief Executive Officer of Spirit AeroSystems. "His leadership in the Senate has advanced U.S. global leadership in aerospace that has included efforts to enhance aviation safety, technological innovation, and robust support for the 2.1 million Americans who work in the industry."
"For over a century, Kansas has played an outsized role in the aviation industry, and our culture of innovation continues to revolutionize manufacturing and flight," said U.S. Sen. Jerry Moran (Kan.). "The aerospace industry bolsters our national security, fosters economic growth, spearheads space exploration and facilitates global connectivity. Through my roles as both an authorizer and appropriator, I will continue to champion strong policies that will help propel our advancements even further. I am grateful for Eric Fanning, Tom Gentile and AIA's leadership to advance the aerospace and defense industry, and I look forward to working with them to maintain our nation's competitive advantage."
As the co-chair of the Senate Aerospace Caucus, Sen. Moran fights to maintain America's aerospace leadership in the commercial aviation, defense, and space industries. Through his work on the Senate Appropriations Committee, where he chairs the Commerce, Justice, and Science Subcommittee, and as a member of the Commerce, Science, and Transportation Committee, Sen. Moran prioritizes policies that support the aerospace and defense workforce, bolster innovation and next-generation technologies, and strengthen national security.
Sen. Moran received the "Wright Stuff Award" at AIA's spring Board of Governors meeting in Washington, DC.
"The Wright Stuff Award," created in 2020, is named after the inspiring Wright brothers whose ideas and inventions ushered in the age of flight, and in turn, transformed the world. The award recognizes an individual for paving "the way to what's next" by making major and measurable contributions to the aerospace and defense industry. Previous recipients include former Rep. Mac Thornberry (R-Texas) and former Sens. Jim Inhofe (R-Okla.), Patrick Leahy (D-Ver.), and Richard Shelby (R-Ala.).
###