Arlington, Va. (Dec. 5, 2022) – – In case you missed it, Aerospace Industries Association (AIA) President and CEO Eric Fanning last week joined Special Report with Bret Baier to talk about why Congress must include a fix to research and development (R&D) tax amortization in any year-end legislation.
From the B-21, to the Artemis 1 mission, to the James Webb Space Telescope, Fanning discussed how critical R&D underpins today's renaissance in the aerospace and defense (A&D) sector and how, without a fix from Congress, the U.S. is losing ground in growing competition with China. Watch the full interview here.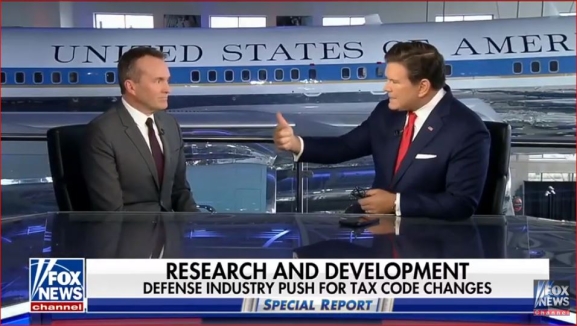 Last week, AIA also led a coalition of 14 top A&D companies in a letter urging congressional leaders to address R&D tax amortization by the end of the year. Since the tax requirement took effect at the beginning of 2022, AIA has repeatedly advocated for Congress to reverse course on the harmful change, including an op-ed in Breaking Defense and an earlier letter from a wide range of A&D companies. 
###