S-Series IPS Specifications
The S-Series Integrated Product Support (IPS) specifications is a suite of specifications for product support that will provide the seamless passage of technical data.
S-Series Specifications Summary
In 1993, the allied nations of the North Atlantic Treaty Organization (NATO) introduced the need for developing a fully integrated suite of Integrated Logistics Support (ILS) specifications that would exchange technical and product support data digitally across an interoperable common source data exchange medium. Below is the ILS data exchange ideology share during the 1993 NATO Acquisition Logistics workshop.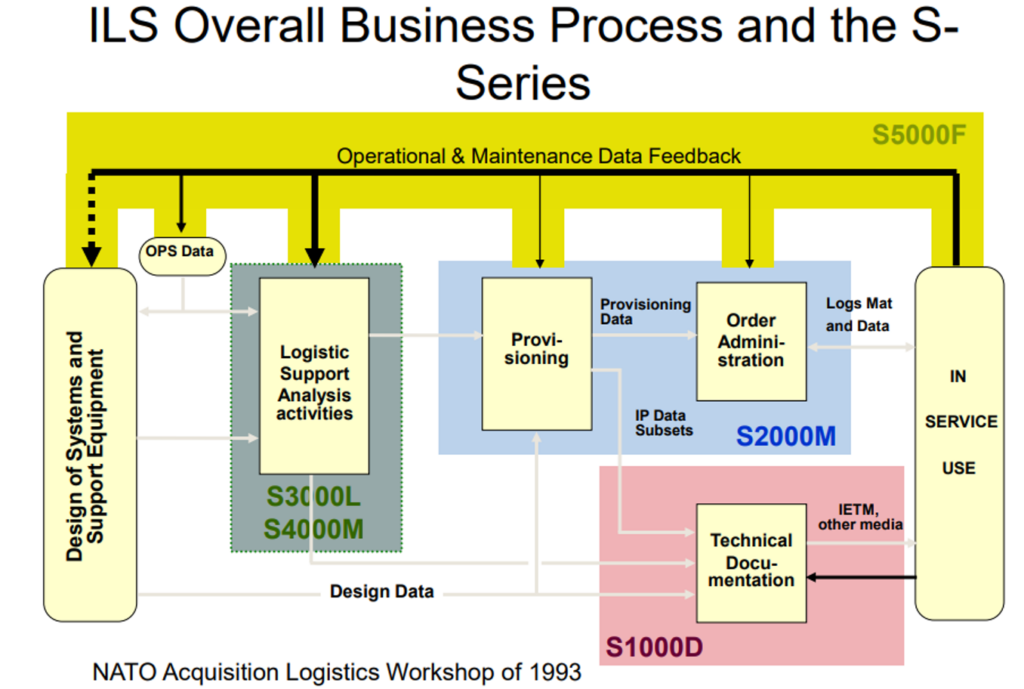 ---
Today, all of these open-source specifications are released and available to the global market. The on-going development and governance of the S Series suite is joint international initiative managed by the S1000D and S-Series IPS Councils. These Councils and their Steering Committees are comprised of Industry members and DoD/MoD members belonging to the Aerospace Industries Association, Aerospace and Defence Industries Association of Europe and the ATA e Business Program (on S1000D only).  Though these specifications were developed by three highly relevant aerospace associations for the A&D industries the utilization of the S-Series have been developed to be agnostic in application. (Maritime, Subsurface, Railway, Construction, Agriculture)
Benefits of Adopting the S-Series Open Source Specification
Improve Interoperability:
Out-of-the Box UML models for all IPS processes/elements
Direct Mapping of Engineering models to IPS In-Service data
Data re-use across new, future and Legacy programs
Streamlined Configuration Management via digital metadata
Maximize data reuse:
Traceable analytical processes in a Model Based environment
Integrating all the Product Support elements​
Interfacing with Engineering data sources
Introducing In-Service Feedback which supports Data Analytics
Utilize throughout lifecycle:
Integrated Models from Design through Disposal
Easy to contract and tailorable
Supports Organic Work via standardized data and exchanges
Improve Operational Readiness and Advantage:
Digitally integrated Engineering and Product Support data
Model Based simulation increases Availability and Readiness Metrics
Use data at speed and scale:

agile open architecture
robust standards
tiered governance
information-advantaged workforce

Lowered cost of IPS documentation creation and sustainment
For more information on the S Series specifications, please contact Gery Mras at [email protected].
Download Open Source S-Series Specifications
The S-Series suite is comprised of the following specifications and can be downloaded for free at the following links:
Your Leadership Connection

Standards Team

AIA's standards leadership team is well-positioned to address standard practices and part standards for the aerospace and defense industry.